Obexion have created a guide on their new product feature: RapiDeploy
RapiDeploy is a custom-built upgrade feature to standard Obexion shutters.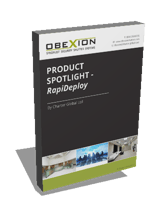 RapiDeploy ensures a swift and total closing of the Obexion security shutter and can be used in emergency situations. The guide has been created to introduce RapiDeploy and give an overview of why it is a beneficial addition to any commercial security shutter system.
The guide is formed of two parts:
1). An introduction to RapiDeploy, its specifications, benefits and potential uses.
2). An interview with Roger Humphreys, Charter Global's Managing Director, on the development and potential scope of RapiDeploy in a commercial environment.
To download your free copy, simply complete the form on the right.